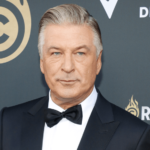 Actor Alec Baldwin has been charged with two counts of involuntary manslaughter in the fatal shooting of 'Rust' cinematographer Halyna Hutchins. 'Rust' armorer Hannah Gutierrez-Reed was also charged with two counts of involuntary manslaughter. A statement released on Thursday by New Mexico First Judicial District Attorney Mary Carmack-Altwies and Rust special prosecutor, Andrea Reeb announced that charges were filed against Baldwin after the gun he was holding discharged, killing Hutchins and wounding director Joel Souza on the film set in New Mexico. Baldwin and Gutierrez-Reed's will be "charged in the alternative" with the two counts of manslaughter, meaning that a jury would decide not simply if they were guilty, but under which definition of involuntary manslaughter they were guilty.
According to the release from Carmack-Altwies's office, involuntary manslaughter is punishable by up to 18 months in jail and a $5,000 fine if proven. The DA and special prosecution will formally file these charges with the New Mexico's First Judicial District Court by the end of the month. Carmack-Altwies said: "After a thorough review of the evidence and the laws of the state of New Mexico, I have determined that there is sufficient evidence to file criminal charges against Alec Baldwin and other members of the 'Rust' film crew. On my watch, no one is above the law, and everyone deserves justice."
The shooting occurred on Oct. 21, 2021, inside a building on a film set outside Santa Fe. Baldwin maintains that he did not know the gun was loaded; he is currently suing several 'Rust' crew members and accusing them of negligence for providing him with a loaded weapon without his knowledge. The actor initially stated that he "didn't pull the trigger," but in his lawsuit against the crew, his team says he pulled back and released the hammer of the gun in Hutchins' direction while they were preparing camera angles.
The state initially fined the production company the maximum penalty of $136,793 for not following proper safety protocols. Hutchins' family also sued Baldwin and the production company over wrongful death. They have since reached a settlement. 'Rust' is currently scheduled to resume filming this year with Matthew Hutchins, Hutchins' husband, now involved as an executive producer.
Editorial credit: Tinseltown / Shutterstock.com