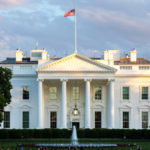 Jeff Zients, who ran President Joe Biden's Covid-19 response effort and served in high-ranking roles in the Obama administration, is expected to replace Ron Klain as the next White House chief of staff.  The Washington Post reported Sunday that Zients is in line to be elevated to the chief of staff role, while rumors of Klain resigning in a few weeks began circulating over the weekend.
Zients was director of the National Economic Council and an assistant on economic policy to President Barack Obama. He was part of Biden's transition team before picking up the role as coronavirus response coordinator. According to CNN, the White House underwent an internal search to find a replacement for Klain. The chief of staff preferred Zients as the next in line after he played a critical role in filling staffing positions after the midterm elections. In March, Zients stepped away from his position as the White House's COVID-19 response director for a private sector position. Dr. Ashish Jha, dean of Brown University's School of Public Health, took Zients' place on the COVID-19 response team.
Klain has served as chief of staff for more than two years. Unnamed sources have suggested his resignation will come following Biden's State of the Union address on Feb. 7, though no official word on the resignation has been announced.
Editorial credit: Matthew Hodgkins / Shutterstock.com