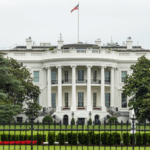 The National Park Service announced on Tuesday the identity of the man who crashed a rented box truck into the security barricade outside of Lafayette Park near the White House on Monday. The crash occurred shortly before 10 p.m. on the north side of Lafayette Square at 16th Street.
The U.S. Park Police said they took 19-year-old Sai Varshith Kandula, of Chesterfield, Missouri into custody and charged him with assault with a dangerous weapon, reckless operation of a motor vehicle, threatening to kill/kidnap/inflict harm on a president, vice president, or family member, destruction of federal property, and trespassing. No weapons were found inside the truck, a Park Police spokesperson said.
The U.S. Secret Service said Kandula was driving a box truck that crashed into the security barricades near the White House. Anthony Guglielmi, a Secret Service spokesman, said in a statement on Twitter that a preliminary investigation indicates the driver may have intentionally struck the barriers to the iconic square, adding: "there were no injuries to any Secret Service or White House personnel." Unnamed law enforcement sources report that Kandula told investigators he wanted to take over the government and kill the president; authorities were looking into the suspect's mental health.
Editorial credit: ako photography / Shutterstock.com